Road Trip part Two: A Night in the Madonna Inn
I love kitschy hotels. When I lived in New York the one to beat, in my opinion, was Mount Airy Lodge in the Poconos. Sadly, I never made it there before they closed, but I can tell you that Mount Airy held a special place in my heart from the television ads. I wanted to take advantage of their heart shaped bathtubs and giant champagne glass hot tub. Sooooo romantic, so chic. Just try to resist their ad from 1989.
I would like to point out that the champagne class hot tub pictured below rests on carpet. Red carpet (there is none classier) but carpet nonetheless. I can smell the faint scent of mildew from here in the future.
You are entering the land of love. If only, Mount Airy, if only. I stole this picture from the internet and I cropped out the woman in it. She looks very happy, you can still see the arm of her jean jacket in the left side of the photo. Sorry denim lady. I hope you had a wonderful time.
You can read about Mount Airy's tragic demise in this NY Times article. It's a casino now. A sterile, cookie cutter, beige casino. It's a crime. Having missed my opportunity to dip my toe in the fragrant waters of Mount Airy's sensual soaking tubs, I turned my attention to the west where I discovered The Madonna Inn.
I'd comb through their 110 rooms online on my lunch breaks and pick out my favorites and plan my future stay. Fast forward seven years and I find myself living in LA and my dream is finally within reach.
It was our first Christmas in LA and we decided to drive up to Big Sur and stop at the Madonna Inn on the way home. It seemed like the quintessential "discover California" kind of trip. When I called to make the reservation I asked for the Cave Man room, see below. I think we can all agree it's something special.
But it was not meant to be. "It's booked. It's always booked. It's our most popular room," I was told. Eew. Instantly my mind flashed to Law and Order: SVU and images of black light discoveries haunted the corners of my mind. If EVERYBODY wanted the cave man room, maybe I didn't.
I booked another room that the receptionist recommended for two nights and made a dinner reservation at the steak house in the hotel because if you're going to do The Madonna Inn, do it all the way.
When we arrive at the inn I am struck by how big it is, it's sprawling. It's right off the highway and the off ramp seems to flow right into the parking lot. There's really nothing else around except the hulking glory that is The Madonna Inn.
And it's pink. Pepto Bismal pink and surrounded by horse fields. Did I mention you can ride horses there? You can, oh yes you sure can (if you remember to make a reservation first which I did not). There's even a chandelier to commemorate your pony fun or, in my case, mock my lack of planning.
We check in and they give us directions to our room. Everywhere there are flowers and glitter covered tchotchkes. It's a feast for the eyes and my eyes were watering with tears of joy.
There are multiple buildings and we were staying in one of the back ones far away from the main building. How secluded, how tranquil. We walked past the pool. It was December, let's not forget, so on we marched but I made a note that I'd return in the summer.
And this, ladies and gentlemen, was our room.
Not one, but two beds greeted us. One for each of us? Apparently this is pretty common at The Madonna Inn. Most of the rooms have two beds, sometimes more, and I can't help but wonder who is double dating at this place. While I'm sure a certain number of families and bachelorette parties pass through, I also can't help but think about what other kinds of activities go on in behind these hallowed walls.
Nevertheless, the room is delightful and has an animatronic water fall behind the bed and little wooden figures of dutch men and women who pop out and ring a bell. There's a mural of a garden painted on one wall and the other walls are covered in green glittery paint. All I need is a unicorn and I'm done. I sniff each of the mini bottles of shampoo and shower gel and then we get dressed for dinner.
Yep, that's the steakhouse, folks and this photo doesn't even do it justice because we went at CHRISTMAS. You're not even seeing the giant christmas decorations, tinsel, and christmas lights layered on top of this pretty pretty pink palette. There's no quiet place to rest your eyes. I love it.
The food at the steak house is pretty much what you imagine it to be, steak, potatoes, dinner rolls, you get it. Whatever you do though, don't get the cake. You'll want to because...
...cake but don't. It's the express train to diabetes. I know because I did eat the cake and instantly felt my heart race and my teeth loosen. They are very pretty cakes though and if I was entertaining a room full of girl scouts, I'd definitely take them to get the cake but sometimes too much isn't fun.
After dinner you can have a stiff drink at the bar, make a little small talk with the regulars.
And don't skip the bathrooms off the lobby. I'm told the men's room has a famous waterfall urinal that people drive for miles to pee in. The ladies room was equally awe inspiring.
As we walked back to our room, past the couples on the dance floor slow shuffling to a polka band, past the red faced fellas at the bar, past a wedding party, I can't help but think this is a time capsule of an era gone by. Opened on Christmas eve in 1958 with just twelve rooms, The Madonna Inn grew in popularity and size over the years. The rooms still feel like a walk through the 60's, not sure much has changed since then to be honest. Here's a smattering of some of the other prominent rooms.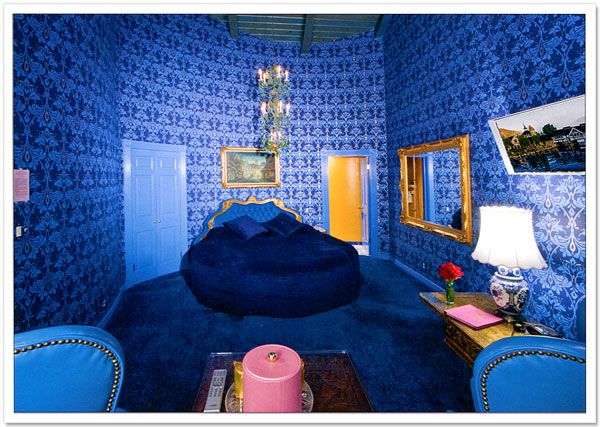 It could have been the giant slice of cake or the filet sitting like a rock in my stomach. It could have been the mattress, the pillows, or even the paper thin walls, but I honestly didn't sleep that well at The Madonna Inn. It felt like I was being watched and at one point in the night I got up and checked all the doors like some crazy paranoid person. I even switched beds at one point. Nothing helped. We woke up early, got in the car and drove home, brains full and fuzzy. I'd come, I'd seen, I'd conquered the Madonna Inn at long last and done so without getting bed bugs or food poisoning. I was so glad we hadn't stayed in the Cave Man room, surely nothing unseemly could happen in a room full of animatronic dutchmen.
When I got home I instantly posted our pictures online because nothing is real until it's on the internet. Right away my friend in New York comments that he and his husband had recently spent a sleepless night in the same room because, he explained, the caveman room is always booked. Yes, honey, yes it is.